Signs and Symptoms of Gastric Sleeve Leak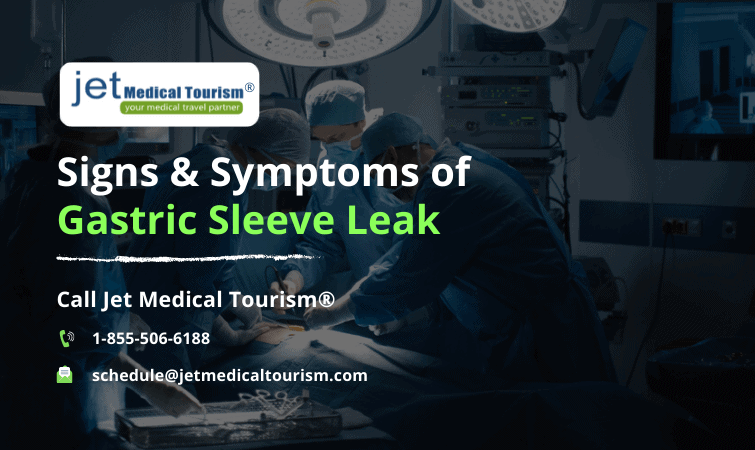 Any surgery comes with a measure of risk, and even though gastric sleeve surgery is quite safe, there are still some complications associated with the procedure.
One potentially life-threatening but rare complication is called gastric sleeve leak, and this occurs when digestive fluids from the stomach leak out through a hole or seam in the new stomach pouch and into the rest of the body.
Leaks can be fatal because digestive fluids contain substances that are meant to break down food. Once escaped, these fluids can then cause a great deal of damage to other organs, muscles, and tissues in the body.
As such, it's imperative to be aware of the possibility of this complication following surgery, and be able to notice the indicators of gastric sleeve leak so you can seek medical attention immediately in the unlikely event that you encounter this problem.
Leaks tend to appear shortly after surgery
Because leaks involve a hole in the seam of the new stomach pouch, this complication typically arises within two to four weeks of the procedure and rarely occurs more than six weeks post-surgery. Therefore, if your gastric sleeve surgery was less than a month ago and you are experiencing the symptoms discussed here today, then it's possible that you may have a leak.
What does a gastric sleeve leak feel like?
Because a gastric sleeve leak results in digestive fluids escaping from your stomach, pain is one of the most noticeable and telltale symptoms of gastric sleeve leak. Signs include abdominal pain, chest pain, and even pain in the shoulder. More noticeably, the pain will intensify every day, rather than resolve itself. If you experience pain like this after your gastric sleeve surgery, talk to your doctor or surgeon immediately.
Other warning signs to watch for
Pain isn't the only symptom of gastric sleeve leak; there are other signs you should keep an eye out for as well, including:
Dizziness
Fever
Shortness of breath
Fast heart rate
Treatment for gastric sleeve leak
When a gastric sleeve leak does happen, emergency surgery is required. During the operation, your surgeon will locate and seal the hole, and then inspect surrounding tissue and organs for damage. Depending on the severity and volume of the leak, additional work may be required to repair damage caused by the digestive fluids.
Skilled and qualified surgeons will monitor post-op patients closely in the days following surgery, and perform several inspections to look for leaks and other complications. Even though this complication is rare, it is still possible; therefore it's crucial to know the signs and symptoms so you can keep yourself safe and healthy.
If you experience any of the symptoms talked about here today, contact your medical professional right away to discuss options.
Find out if you qualify for the gastric sleeve surgery by clicking through to our online application form or contact us today to find out more.

Related to This