Weight Loss Surgery in Tijuana, Mexico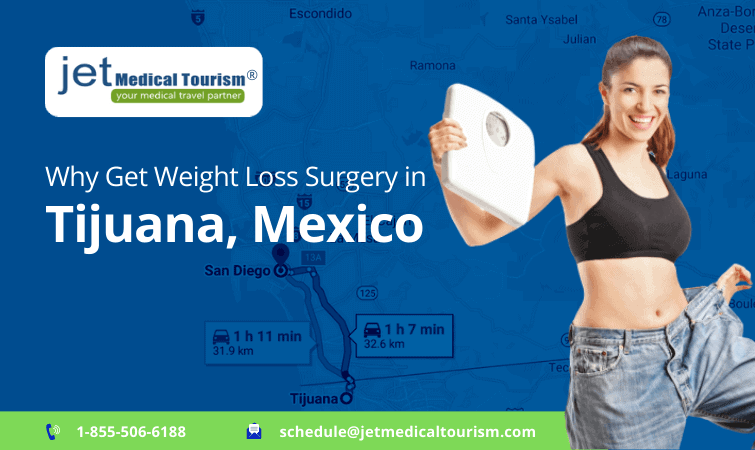 In recent years, Tijuana in Mexico has emerged as the Mecca for weight loss surgery for Americans. The cost of weight loss surgery in Tijuana averages about 70 to 75% lower than the cost in the US. As a result, thousands of American and Canadian patients suffering from obesity and weight issues are choosing Tijuana as an affordable destination for medical tourism in Mexico every year.
According to the Medical Tourism Association in the US, Americans can save up to 90% on surgeries if they choose to undergo the procedure in Tijuana. The organization recommends that patients should get help from a reputable medical tourism facilitator in order to ensure the best treatment experience.
Contact Jet Medical Tourism

®

today!
Tijuana is a major urban metropolis in Northwestern Mexico, forming the biggest metropolitan area on the border with its US neighbor – the city of San Diego. The old impressions and media hype about Tijuana as an "unsafe place" for travel are a thing of the past. In early 2000's, the region suffered from a credibility crisis. But it is 2019 now, and things have dramatically changed.
Related: Is Tijuana safe for tourists
Weight loss surgery Tijuana
Obesity can severely compromise your health and quality of life. The more unfortunate part is that once your BMI exceeds 35, it gets very difficult to reverse the condition with diet and exercise alone. This is why thousands of patients are choosing weight loss surgery Tijuana to achieve safe and effective resolution to obesity and related co-morbidities.
How does Bariatric Surgery Tijuana Work?
Weight loss surgery Tijuana will not directly eliminate your excess body weight, but will induce physiological conditions to help you lose weight in a safe, natural, and sustainable manner. The procedure is designed to reduce your stomach size so that your capacity to eat is diminished. At the same time, it causes changes to your metabolism to curb your appetite.
Live Longer with Weight Loss Surgery Tijuana
As long as you choose the best bariatric surgeon in Tijuana, you can expect outstanding results with your weight loss surgery. The procedure will not only provide you permanent freedom from obesity, but also treat related life-threatening conditions, such as diabetes, hypertension, and obstructive sleep apnea. Longevity of most patients improves after a bariatric surgery Tijuana.
Bariatric surgery Tijuana: Popular procedures
A number of advanced techniques are used today to perform weight loss surgery Tijuana. Your goal should be to choose Tijuana weight loss doctors who are well-versed in these procedures and can recommend the most appropriate surgical option for you.
Gastric sleeve is currently the most popular form of bariatric surgery Tijuana. Reasons for the popularity of sleeve gastrectomy Tijuana include:
Less invasive compared to other major bariatric procedures
Minimal risk of complications as intestinal changes are not involved
Post-surgical recovery is easier and faster
High success rate and long-term sustainable weight loss results
Gastric bypass is a time-tested bariatric surgery Tijuana procedure. Your surgeon may recommend gastric bypass surgery Tijuana for these reasons:
Rapid weight loss in the first year and a high long-term success rate
Ideally suited for patients who suffer from obesity-related diabetes
Reduces calorie absorption along with limiting the stomach size
Can be performed laparoscopically for high-precision outcomes
Patient who may have undergone gastric band Tijuana can switch to more effective forms of weight loss surgery Tijuana with a revision procedure.
Gastric band Tijuana is a reversible procedure
It is possible to revise the procedure to VSG or gastric bypass
Weight loss success rates are high after a revision surgery
Recovery period is similar to a primary VSG or gastric bypass
Tijuana gastric sleeve surgery
Gastric sleeve constitutes nearly 80 percent of all bariatric surgery procedures performed at present. Tijuana gastric sleeve surgery is a relatively recent procedure, but the exceptionally high success rates and low risk involved in this surgery have made it the number one procedure.
How is VSG Surgery Tijuana Performed?
Sleeve gastrectomy Tijuana involves the surgical removal of a large part of the original stomach, leaving behind a small banana-shaped tubular pouch. The procedure involves very small incisions in the abdomen when it is performed laparoscopically. The surgery is performed using general anesthesia. Recovery can take about one week before you can resume normal activities.
How does Tijuana VSG Surgery Work?
Gastric sleeve Tijuana works in two ways. As the stomach size is substantially reduced, it will limit your capacity to eat. You will naturally eat smaller meal portions and will feel full faster. Secondly, the surgery will reduce your production of hunger hormone ghrelin in the body. This will help in curbing your appetite and you will not have a frequent urge to eat like before.
Tijuana gastric bypass
Tijuana gastric bypass surgery is considered the gold standard among all types of bariatric surgery Tijuana procedures. The procedure has been around for more than half a century. Surgeons have collected sufficient data over the years to understand the working and efficacy of this procedure.
How is Gastric Bypass Surgery Tijuana Performed?
Nowadays the most advanced form of this surgery is called Roux-en-Y gastric bypass Tijuana. There are two stages to this procedure. In the first stage, your surgeon will divide the upper portion of the stomach to reduce its volume. The second stage will involve rerouting of the small intestine to create a bypass for the digestive enzymes from the stomach. The procedure can be performed laparoscopically to make it less invasive and more precise.
How does Tijuana Gastric Bypass Work?
This weight loss surgery Tijuana works in two ways – restrictive and malabsorptive. As the pouch size gets restricted because of stapling of a large part of the stomach, you will consume less food and feel full quickly. Secondly, the rerouting of small intestine will reduce the natural absorption of calories in your body. So, even when you eat calorie-dense foods, you will not gain so much weight.
Gastric band Tijuana
Adjustable gastric band Tijuana is a less popular form of weight loss surgery. Your bariatric surgeon Tijuana may not recommend it because of the relatively low success rates of this procedure. However, the advantage of this surgery is that it is minimally invasive and does not involve removal of the stomach tissue or changes to the intestines.
Gastric band Tijuana simply involves the surgical placement of an inflatable band around the top portion of your stomach to create a smaller pouch. This will improve satiety and reduce your capacity to eat. If you experience gastric band complications or fail to achieve your weight loss goals, you have the option to choose gastric band revision surgery.
Lap band revision Tijuana
Gastric band revision Tijuana may be performed either to replace or adjust the slipped band or to convert the procedure to gastric sleeve Tijuana. Discuss your revision options carefully with the best bariatric surgeon in Tijuana in order to make the right decision.
If you experience significant symptoms of nausea, vomiting, acid reflux, loss of sleep, weight loss plateau or weight regain, it may be time to consider lap band revision Tijuana.
Your ideal option may be to choose lap band to gastric sleeve conversion surgery. This procedure may be performed in two separate sessions or in a single session.
Your bariatric surgeon Tijuana will first remove the gastric band from your stomach, and then perform the sleeve gastrectomy.
Following the VSG surgery, you can focus on your prescribed diet and exercise plan to achieve your desired weight loss goals.
Why choose Tijuana bariatric surgery?
Weight loss surgery is a transformative procedure that can dramatically improve your health and physical fitness and increase your longevity. Here are some of the reasons why you should choose Tijuana bariatric surgery:
Disease-free Life: Obesity often gives rise to co-morbidities such as heart disease, fatty liver disease, type 2 diabetes, and OSA. Your weight loss surgery Tijuana will not only help you get rid of obesity, but also eliminate or reduce these co-morbidities.
Emotional Health: In addition to the physical and medical benefits, you will experience a noticeable improvement in your mental and emotional health after your bariatric surgery Tijuana. Your self-esteem and self-confidence are likely to improve dramatically.
Living Life to the Full: Following your Tijuana weight loss surgery, you can play outdoor sports, engage in social activities, wear the clothes of your choice, and do things that you could not imagine yourself doing before. It may also favorably impact your personal and professional life.
Cutting-edge medical technology and infrastructure for Tijuana weight loss surgery
Tijuana is home to several reputable bariatric surgery hospitals and clinics, equipped with advanced operating rooms, onsite labs, latest imaging technology, and state of the art intensive care units.
Treatment standards in Tijuana are the same as the US and Canada. Pre-op blood work, EKG, and other diagnostic tests are required at every weight loss surgery facility.
Tijuana has hospitals that are certified for medical tourists by CSG, the premier healthcare agency of the Mexican government that meets the highest international medical standards. CSG is the Mexican government equivalent of the JCI certification in the US.
Certified Tijuana bariatric surgery clinics and hospitals meet all the quality, safety, sterilization, and hygiene protocols to perform surgical procedures. These surgical facilities have some of the best qualified and experienced weight loss surgeons, and licensed and registered medical assistant staff and nurses.
Certified Tijuana Bariatric Surgery clinics and hospitals are required to buy all medical, surgical, and pharmaceutical supplies and equipment from authorized distributors. The facilities have provisions for safe post-operative recovery, and provide personalized guidance and care to each patient before, during, and after the surgery.
Weight loss surgery Tijuana cost
Weight loss surgery Tijuana cost may range from $3,500 to $10,000, depending on the type of surgery you choose. In any case, your cost of surgery may be up to 70 percent lower than what you might otherwise pay in the US or Canada. Your bariatric surgery Tijuana cost will generally include:
Fee charged by the weight loss surgeon Tijuana
Fee charged by any other attending doctors and staff
Anesthesia team costs
Surgical room charges
Overnight hospital stay, if necessary
Pre- and post-operative tests and blood work
Prescription medications for one week
Weight reduction surgery in Tijuana encompasses the full spectrum of bariatric procedures, including gastric bypass surgery in Mexico, gastric sleeve surgery in Mexico, and lap band revision surgery in Mexico, among others.
Cost of gastric sleeve in Tijuana - $3,599 to $8,500
Vertical Sleeve Gastrectomy (VSG) or the Gastric Sleeve in Tijuana, Mexico is currently the most sought-after weight loss procedure for American medical tourists.
In the US, the cost of this surgery is typically not covered under health insurance, and patients have to empty out their checking account to have this surgery. Spending $25,000 to $35,000 on this is not uncommon in America for some Americans. That is equivalent to a brand new pickup truck for instance!
Related: How much does gastric sleeve cost?
Cost of gastric bypass (roux-en-Y) surgery in Tijuana - $5,499 to $10,500
The Gastric Bypass or Roux-en-Y surgery involves splitting the stomach in a way that the patient's calorie absorption is reduced. The cost of this surgery averages $40,000 or more in the US, but in Tijuana some of the leading bariatric surgeons are performing the same surgery at a fraction of the cost.
Related: How much does gastric bypass cost?
Cost of gastric band (lap band) surgery in Tijuana - $3,599 to $4,500
The gastric band surgery, popularly known as the lap band surgery, costs just a fraction of what it would cost in the US and Canada. The procedure involves placing a band around the stomach to make it smaller. Unlike other weight loss surgeries, the lap band in this procedure can be adjusted to increase or decrease food digestion, and even removed if you want.
Related: Lap band revision surgery in Mexico
Cost of bariatric revision surgery in Tijuana – Prices vary
Some patients who may have undergone a primary bariatric surgery in the US or Mexico, but did not lose the desired amount of weight, or those who regained weight after their surgery, may choose bariatric revision surgery in Tijuana.
Some of the leading bariatric surgeons in Tijuana who perform revision weight loss surgery are mentors to other surgeons in both the US and Mexico. They also have advanced research and academic background, making them the best choices for corrective secondary bariatric surgeries.
Best bariatric surgeon in Tijuana
The success of your weight loss surgery Tijuana, in large part, depends on the skill and experience of the operating surgeon. As long as you work with the best bariatric surgeon in Tijuana, you can expect safe and predictable results. Here are a few things you can do select the right surgeon for your needs:
Professional Credentials: The best weight loss surgeon in Tijuana would have the necessary qualifications, training, and certifications in bariatric surgery. They may also have memberships of eminent weight loss surgery associations in Mexico.
Types of Bariatric Surgery: The ideal surgeon would have the versatility and experience to perform different types of weight loss surgery procedures. These surgeons can give you the option to choose among VSG, gastric bypass, or other procedures.
Patient Testimonials: In addition to the technical skills and qualifications, you should know what the other patients have to say about the bariatric surgeon Tijuana. Patient testimonials and reviews will give you insights from the perspective of actual patients.
Hospital Affiliation: The best bariatric surgeon in Tijuana would usually have staff privileges to perform your procedure at a leading hospital or bariatric center in the city. Top institutions perform a thorough background check before affiliating with a surgeon.
Related: Choosing a bariatric surgeon in Tijuana – A step by step guide
Traveling from U.S. to Tijuana for bariatric surgery
Tijuana, Mexico is located just 22 miles south of San Diego International airport. Tijuana is easily accessible by bus, car, or the popular San Diego Trolley (also known as Tijuana Trolley), which will take you to the border crossing.

San Diego visitors mostly go to Tijuana through the San Ysidro border crossing. From downtown San Diego, it will take about 40 minutes to arrive at the Mexican border via the Imperial Way blue line.
To get to Tijuana, you can hop on the blue line at any station going toward San Ysidro. The line will take you all the way to the border where you will get off at San Ysidro.
Bus tours from San Diego also leave for Tijuana daily.
Related: Safe weight loss surgery in Mexico
Tijuana is the cultural melting pot of Mexico
In many ways, Tijuana offers a complete border-town experience with its eclectic mix of cultures, a wide range of exotic restaurants and bars, and a boisterous nightlife. Tourists are respected in Tijuana because the locals recognize their economy depends on them.
Over the years, Tijuana has come to be known for its fine hospitality, its urban art scene, and its dynamic craft beer. A few streets off the main thoroughfare of La Revo is where you can experience arty cafés and contemporary galleries.
For exclusive dining, you can find new restaurants that are mushrooming in and around Zona Rio, the high-end commercial center which runs along the river. If you are seeking the distinct soul of Mexico on your visit to the country as a medical tourist, you won't need to go farther than Tijuana.
US dollar currency is commonly accepted in Tijuana, even by the locals. Just as the US does, Tijuana follows daylight saving time. The region's proximity to the Pacific Ocean allows it to have a mild climate with pleasant temperatures and low humidity throughout the year.
No wonder the positive word-of-mouth that American patients spread back home after their successful weight loss experience has made Tijuana the top medical tourism destination for bariatric surgery.
Related: Travel to Tijuana Mexico for gastric sleeve surgery
Jet Medical Tourism®: Your one stop shop for bariatric surgery in Tijuana Mexico
Jet Medical Tourism® is here to help you. Since 2017, we have helped patients from all around the world achieve their weight loss goals successfully. Apply Now or get in touch with us today by calling (855) 506-6188 or the contact form.
Related to This