Bariatric Surgery Support Group
The success of a bariatric surgery procedure depends as much on the surgeon's skills as on the patient's personal resolve and emotional resilience to go through the weight loss journey. A bariatric surgery support group can play a crucial role in this endeavor. Patients who enlist the support of friends and family and join weight loss support groups usually achieve more satisfying outcomes, both physically and emotionally.
Why join a bariatric surgery support group
In the early phase of the weight loss journey, most patients excited about the prospects and may ignore the need to join a bariatric support group. However, it is easier to cope with the dramatic changes this surgery is going to make to your life, if you have access to trained professionals, current or former patients, and other caring individuals as part of a bariatric surgery support group.
Guidance: During the pre-op preparation, surgery, and post-op recovery phase, you may have numerous questions and concerns which you may want to share with a bariatric support group near me rather than with your surgeon or their staff. You can obtain reliable and judicious guidance from the group.
Inspiration: Before and after your bariatric surgery, there could be moments of self-doubt, uncertainty, and anxiety on various aspects of your weight loss goals and the progress you are making. In these difficult moments, bariatric surgery support groups can inspire you to keep going.
Tips and insights: While your surgeon and their team will provide you detailed guidelines and do's and don'ts about your surgery and recovery, you can still benefit from the actual experiences of other patients and proven tips from professionals who constitute a bariatric support group.
Maintaining focus: After the initial few months of your surgery, as the dietary restrictions ease and you move on to solid foods, it is easy to lose focus on your prescribed bariatric diet and fitness regimen. A weight loss support group can help you maintain focus and stay on track throughout.
Emotional support: For some patients, the post-surgery weight loss journey can be an emotional roller coaster ride. Relationship with the partner may also require some adjustments in this phase. A support group for bariatric surgery patients can offer much-needed emotional support at this time.
Related: Gastric sleeve before and after pictures: Best photos (2021)
Support group for bariatric surgery patients
Weight loss surgery support groups can be formal or informal, and quite often the treatment provider or facilitator may run these groups for their own patients. A dedicated service provider will like you to stay connected even after the surgery is over, and may continue to provide you support and encouragement by way of a bariatric surgery support group online or offline.
Professional groups: Depending on your needs, you may want to join a professional support group run by a hospital or clinic that includes medical professionals, certified nutritionists, and psychologists.
Informal groups: You could join an informal group for bariatric surgery patients in your local area, or encourage your friends or acquaintances at the gym to participate if they have similar weight loss goals.
In-person groups: When you physically meet or talk to other people who are going through the same challenges as you, it makes the journey easier. So, you may join an in-person bariatric support group near me.
Online groups: Social media and internet forums have made it easy to join a virtual support group for bariatric surgery patients. If you have constraints of time or travel, an online support group may be the right fit for you.
Related: Bariatric nutrition support you can trust
How to find weight loss support groups
When you choose a caring and compassionate bariatric surgery treatment provider, they may help you identify the right type of weight loss surgery support group. In fact, some of the leading providers may also run exclusive weight loss support groups for their own patients.
Here are a few useful ways to find pre or post bariatric surgery support groups.
Join the online message forum or social media bariatric support group of your treatment provider.
Ask your personal care physician or bariatric surgeon to recommend a bariatric support group near me.
Check with an obesity care nonprofit in your area for a local gastric bypass support group or gastric sleeve support group.
Search for weight loss support groups online, but be judicious in taking advice from untrained group participants.
Look for a bariatric surgery support group near me by searching on popular sites such as Meetup.com.
Create your own local community group by inviting other current and former bariatric patients online or offline.
Related: Bariatric surgery process
Benefits of joining bariatric surgery support group online
In an increasingly digitized world, a large number of patients now prefer to join a weight loss surgery support group online rather than look for an in-person group. Some treatment providers are making life easier for their patients by providing them a ready online platform on Facebook or other forums.
Here are the key benefits of an online bariatric support group.
Online support groups offer flexibility, convenience, and privacy.
A bariatric surgery support group online gives you 24/7 accessibility.
Scheduling conflicts, time and travel costs are eliminated.
You can find like-minded individuals for in-person engagement.
You can focus on bariatric support group topics of your choice.
You may choose to remain anonymous to maintain confidentiality.
You can engage with specific sub-groups, such as a gastric sleeve support group or a gastric bypass support group.
Post bariatric surgery support groups
Many patients may not feel the need to join a support group prior to their weight loss surgery. If your surgery team is supportive, they will educate you and help you prepare thoroughly for your bariatric procedure. However, following the surgery, the real weight loss journey begins, and you may benefit by joining post bariatric surgery support groups.
Your diet, lifestyle habits, and fitness routine will undergo major changes after weight loss surgery. It gets easier to cope with the rapid transformation of the body and mind when you have access to a post bariatric surgery support group of like-minded people. So, find an online or offline bariatric community group ahead of time to meet your goals.
Bariatric surgery support group topics
Weight loss support groups give you the freedom to discuss any doubts or concerns related to your surgery, or simply share your thoughts on a variety of pre- or post-bariatric issues. Here are some of the common weight loss surgery support group topics that may be discussed via an in-person or online forum.
Pre-op bariatric surgery support group topics
Do's and don'ts to follow before the bariatric surgery.
How to manage a pre-op bariatric liquid diet?
Is the weight loss surgery procedure painful?
How many days of leave should I apply at my workplace?
Gastric bypass surgery support group topics
Will a gastric bypass relieve me of my type 2 diabetes?
Do I need nutrition supplements after a gastric bypass?
How much excess weight will I lose in the first 3 months?
I'm experiencing nausea when I eat, what to do?
Related: Gastric bypass weight loss chart, timeline
Gastric sleeve surgery support group topics
Will my gastric sleeve make me 100% obesity-free?
I'm going through a weight loss plateau, is it normal?
When can I join the gym or start exercises after the surgery?
Can I get some interesting gastric sleeve diet recipes?
Related: Truth about gastric sleeve revealed
Jet Medical Tourism bariatric support group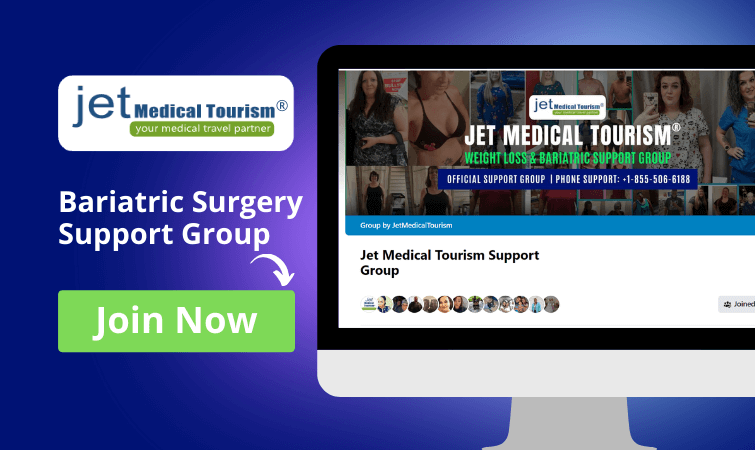 Jet Medical Tourism® is committed to be your dependable partner throughout your weight loss journey and beyond. We have an official bariatric surgery support group on Facebook exclusively for our patients, where you will have a friendly and compassionate community of like-minded members from day one. Call Jet Medical Tourism® today to know more about our bariatric support group and services and get started on the path to freedom from obesity!
Are you ready to start your weight loss journey?
Jet Medical Tourism® is here to help you. Since 2017, we have helped patients from all around the world achieve their weight loss goals successfully. Apply Now or get in touch with us today by calling (855) 506-6188 or the contact form.
DISCLAIMER: Some or all of the hyperlinks embedded in this web page may link back to Mexico-specific surgery procedures. Those links are only meant for general information purposes, and may not have any relevance to the content of the given web page. Readers should exercise discretion and consult a medical professional before making any decisions related to a choice of procedure or a choice of location for treatment.
Related to This